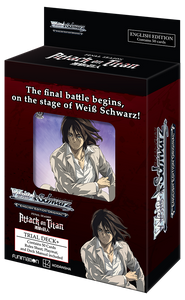 Weiss Schwarz Trial Deck+ Attack On Titan: Final Season English Edition Trading Card Games
09/16/2022(Fri) ON SALE

Release Date: September 16, 2022
Description
Since the first season aired in 2013, titans have taken the anime world by storm! Now, almost a decade later, we are finally headed towards the conclusive battle! Attack On Titan: Final Season now coming to Weiß Schwarz as an English Edition Original!

Product Information
SIGNED CARDS
Every deck you purchase has a chance to contain a hot stamped autographed card by the following members of the cast:

◆ Ayane Sakura as Gabi Braun
◆ Natsuki Hanae as Falco Grice

20 types of cards + 7 types (Parallel)
50 cards per deck, 6 decks per display
8 displays per carton
The cards in these Trial Deck+ may be used together with cards that have card numbers beginning with 「AOT/」!
Neo-Standard Products
※ Rules Sheet, Playmat, and Deck Manual included
※ The contents of each deck (excluding parallel cards) are exactly the same.
※ This product is intended for players aged 13 and above.
※ Weiß Schwarz (English Edition) does not include gold/silver campaign coupon.
※ ONLY FOR SALE FOR THE FOLLOWING TERRITORIES: Philippines, Singapore, Indonesia, Taiwan, Australia, New Zealand, Germany, United Kingdom, France, Italy, Portugal, Belgium, Netherlands, Spain, Sweden, Switzerland, Austria, United States of America, Canada, Mexico, Costa Rica, Peru, Brazil, Chile, Colombia
---
We Also Recommend